Dental Crowns and Bridges at KR Dental
Two of our popular restorative dental services include crowns and bridges, as we endeavour to help you achieve a stronger, beautiful, and more functional smile. All of our restorative appliances are made using safe, trusted, and durable materials, leaving you with a crown or bridge that you'll absolutely love. Each of our crown and bridge designs can also be paired with dental implants for replacing missing teeth.
Check Out This Video About Dental Crowns
See our video from Dr. Sandy Iyer the principal dentist at KR Dental and senior dental assistant Margret talk about Dental Crowns, 'who needs them?' and the benefit of Dental Crown.
Dental Crowns
Trauma, decay or the need for root canal treatment may severely weaken a tooth, however this is where a crown can come to the rescue. A crown is a tooth-shaped 'cap' that fits over the existing tooth structure and replaces the missing natural crown structure, helping to both strengthen and save it. The added layer of protection that crowns offer help to reinforce weak, worn or decaying teeth. They're also required after root canal therapy to avoid additional tooth deterioration.
Crowns are usually made of either porcelain or porcelain fused to gold, whilst being made to match the colour of your natural teeth for a seamless smile. We utilize 3D scanning to ensure an optimal crown design and the highest level of comfort during your restorative appointment.
There are many reasons why a dentist may recommend a dental crown, including: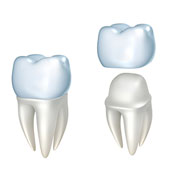 To strengthen a cracked tooth
To protect a tooth's structure if it has suffered from bad decay
To restore a tooth that has been grinded or worn down
To support a tooth that contains a large filling
To hold a dental bridge
To improve the appearance of a tooth (i.e. if it is extremely discoloured or misshapen)
To assist a dental implant
Dental Bridges
Dental bridges are quite different to crowns, as their aim is to replace a single or several missing teeth. The bridge is actually secured by crowns which are attached to the healthy natural teeth on either side of the missing tooth (or teeth).
When a tooth is lost through trauma or cannot be saved by root canal treatment, a bridge is one of the possible solutions. This procedure allows our dentists to successfully restore the function and aesthetic of a patient's smile, giving them plenty of reasons to feel confident once again.
FAQ
How should I look after my new crown or bridge?
Treat your restoration like a natural tooth, brushing and flossing it daily. Book six monthly checkups to have the margins of your restoration, underlying tooth and surrounding gum tissues evaluated.
Most dental crowns – assuming they're looked after properly – can last for 15-20 years at a time. If you're prone to clenching or grinding your teeth, we recommend wearing a bite splint to avoid unnecessary fractures.
Are all dental crowns made of porcelain?
99% of our dental crowns are ceramic. However, we occasionally recommend gold crowns for back teeth that are prone to extremely heavy wear.
How many appointments are required?
Most crown and bridge restorations require two appointments to complete the treatment. The first visit is to prep the tooth (or teeth) and take 3D scans for our lab. The final restoration is ready to cement into place about two weeks later.

Dental Crowns and Bridges Kippa-Ring, Redcliffe Peninsula, Redcliffe, Newport, Clontarf QLD | (07) 3883 2434