Custom Mouthguards at KR Dental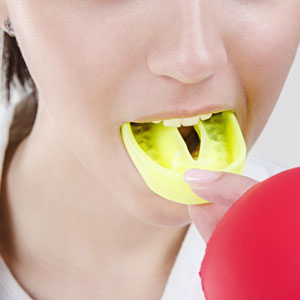 At KR Dental, we care deeply about your smile, as well as your long-term oral health and wellbeing. This is why we offer additional services such as custom mouthguards, designed to give your smile extra protection when it needs it most.
Did you know that some of the most common athletic injuries are related to the mouth and face? Fortunately, it's possible to reduce you or your child's chances of a broken or knocked out tooth. Professionally fitted mouthguards offer the best protection possible to safeguard your teeth against dental emergencies. Especially if you're involved in any type of contact sport.
Protect Your Smile
Many of us play sport, but did you know injury or trauma to your teeth can result in serious dental concerns (like loss of a tooth)? This is why it's vital that you or your children wear a dentist-made, custom-fitted mouthguard when playing contact sports. A sports mouthguard may be one of the most important pieces of protective equipment that you ever invest in.
These personalised mouthguards are made by one of our dentists using an impression taken of your upper and lower teeth. Custom fitting allows the dentist to accurately assess your mouth and provide the best fit, size, coverage and thickness, resulting in better protection against tooth damage, injuries to your mouth or jaw, or even concussion. Instead of a looser, bulky mouthguard you can find in stores, these devices hug your teeth snuggly and stay in place when you need them the most. Their comfortable, smooth design is easy to hydrate and talk with so that you won't be tempted to take it out during the game.

Custom Mouthguards Kippa-Ring, Redcliffe Peninsula, Redcliffe, Newport, Clontarf QLD | (07) 3883 2434