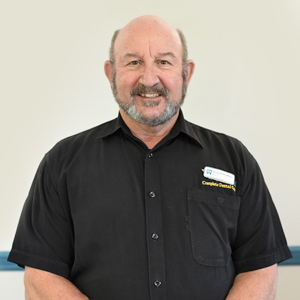 Meet Dr Graham Miller,
BDS (Associate Dentist)
I have been in this practice for over 30 years and am still loving doing what I am doing."
Dr Miller enjoys seeing how dentistry continues to evolve as technology and techniques change. He also loves caring for our patients who have such interesting lives and stories.
Education and Experience
Dr Miller graduated from the University of Queensland after which he joined the Royal Australian Navy, serving as a Dental Officer for several years. In the 80s, he established KR Dental, which has since earned a reputation of being a Centre of Dental Treatment excellence.
Dr. Miller's particular dental interests are in the dental implant and restorative areas, having helped establish the Queensland Branch of the Australian Society of Implant Dentistry in 1985.
OUR SERVICES »
Away From the Office
When he's not at the office, Dr Miller enjoys driving cars on road trips and track. He also likes travelling to places that are not considered to be on the tourist circuit.
Contact KR Dental today to schedule an appointment!
BOOK YOUR NEXT APPOINTMENT WITH DR. MILLER »


Dr Graham Miller | (07) 3883 2434