Meet Dr. Nipuni Thilakaratne, Dentist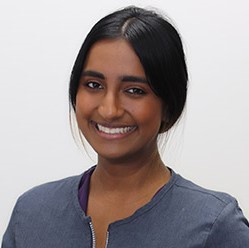 When Dr Nipuni was young, she struggled a lot with her oral health. Even at a young age, she was familiar with dental visits and the anxiety that became associated with treatment.
Looking back, I can confidently say that had it not been for my incredible dentist who treated me, I would be a very different person than I am today.
Today, she works to craft beautiful smiles for patients of all walks of life, understanding first-hand the impact a gorgeous set of teeth can have on someone's self-confidence. One of her favourite aspects of dentistry is working to restore a patient smile through prosthodontics, essentially "healing" a broken smile. She continues to take professional development courses each year in order to bring patients the best possible services while staying abreast the latest advancements and technology in the field.
OUR SERVICES »

Away from the Office
When she isn't in the practice, Dr Nipuni enjoys creative writing, painting and learning other languages as well as playing with her puppy Oliver.
Get to know more about her when you book your next visit with us. We look forward to welcoming you to our practice.
BOOK YOUR NEXT APPOINTMENT WITH DR. THILAKARATNE »

Dr. Nipuni Thilakaratne | (07) 3883 2434