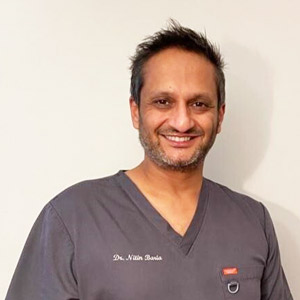 Meet Dr Nitin Baria, Dental Surgeon
Combined His Two Loves
"As a child, I loved art and engineering. I was forever taking things apart to see how they worked, much to my parents' dismay! I also had no desire to sit behind a desk, so dentistry and building smiles seemed a natural progression, as this combined both my passions for art and engineering. In addition, I always wanted to work as part of a small team."
Education and Professional Development
Dr Nitin earned a Bachelor of Dental Surgery from the University of Liverpool, England in 1998. To stay abreast of the latest in the field, he regularly takes various continuing education and postgraduate courses ranging from facial aesthetics to restorative and cosmetic dentistry. To date, he's taken the following:
2018 Avanti Facial Aesthetics Academy
2014 – 2015 Prof Paul Tipton's Restorative Course
2013 – 2015 University of Sheffield Implantology Course
2012 – 2013 Prof Paul Tipton's Practical Restorative Training Course- Awarded Best Dentist Prize
2010 – 2011 Christopher Orr – Advanced Occlusion and Comprehensive Treatment Planning
2006 – 2007 Christopher Orr – Certificate in Cosmetic and Aesthetic Restorative Dentistry
Finding Fulfilment Helping Patients
For Dr Nitin, it's gratifying to help patients achieve their dental goals and build rapport with them.
I still find it deeply fulfilling when we reveal a patient's new smile to them; sometimes even simple composite bonding to repair chipped or worn teeth can make a world of difference to a patient's life.
In His Spare Time
Outside the practice, Dr Nitin enjoys photography, reading, travelling, snooker, cooking and eating!
Book an Appointment
Contact us today to schedule an appointment with Dr Nitin.

Dr Nitin Baria | (07) 3883 2434