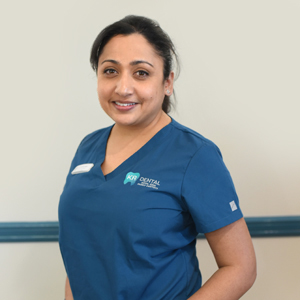 Meet Dr Sandy Iyer, Principal Dentist
Dr Sandy Iyer has been practicing dentistry for almost a decade now, since graduating with a Bachelor in Dentistry from Sydney University in 2008. Sandy has always been interested in health and the medical industry, and previously completed a Bachelor of Medical Science at QUT in 2003.
Sandy chose to pursue dentistry because she loves how the field is a combination of precision, craft, and science. She enjoys being meticulous about fine details but believes the most rewarding aspect of her job is being able to help patients achieve optimal oral health and wellbeing.
Professional Development
Sandy is an avid believer of continual education and development, and enjoys attending multiple conferences, seminars, and additional courses in dentistry each month. As such, she has attained numerous certifications in the fields of invisible braces (Invisalign), jaw and facial pain, children's dentistry, and snoring and sleep apnoea treatment (just to name a few!). Not only does this further fuel Sandy's passion for her industry, but it also allows her to stay ahead of the most important oral health discoveries and developments.
Due to Sandy's excellent reputation as a dentist, it comes as no surprise that she treats generations of families, many of which have followed her to her new practice location. She loves treating patients of all ages, whether they're one or one hundred!
OUR SERVICES »
Outside of the Practice
When she isn't busily working away, Sandy also loves to keep active with Bikram yoga, travel, or walking her dog. She is also a mother to a 3-year-old, which sees weekends filled with plenty of fun family activities.
To schedule an appointment with Sandy, please call KR Dental today! We look forward to welcoming you and your family into our friendly and exceptional dental practice.
BOOK YOUR NEXT APPOINTMENT WITH DR. IYER »


Dr Sandy Iyer | (07) 3883 2434