Emergency Dentist at KR Dental
From a throbbing toothache to a chipped tooth that results from a sport-related trauma, dental emergencies come in all forms. At our friendly and caring dental practice, our professional team members are available to answer your calls and address your concerns.
For urgent cases, we also feature same-day emergency appointments. Give our practice a call to discuss your concern with a member of our team, and we will be able to help you.
Are You Experiencing a Dental Emergency?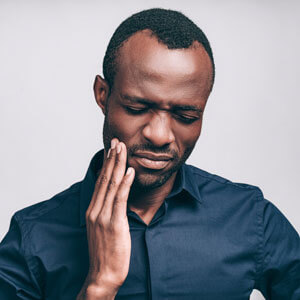 If you're wondering if you have a dental emergency, here are some of the most common types of dental issues that should be addressed straightaway:
A severe toothache
A broken or chipped tooth
A knocked-out tooth
Loose, defective or broken dentures
Uncontrollable bleeding
Painful swelling
Injury to the jaw
If you're experiencing any of the dental concerns listed above, it is essential that you contact our practice to discuss emergency treatment. Addressing your dental emergency as quickly as possible can help to avoid oral health complications that could arise if the issues aren't dealt with immediately.
Though not every dental emergency can be avoided, there are many actions you can take to help prevent dental emergencies. These include:
One of the best ways to avoid a dental emergency is coming in for your biyearly checkups. By doing so, your dentist can keep an eye on any issues and provide care before they evolve into dental emergencies.
Contact Us Today
If you're suffering from discomfort or pain, or experiencing any other type of dental emergency, please contact our Kippa-Ring practice today.

Emergency Dentist Kippa-Ring, Redcliffe Peninsula, Redcliffe, Newport, Clontarf QLD | (07) 3883 2434