Invisalign® at KR Dental
Free 30 minute Invisalign consultation worth $200!
As this virtually invisible aligner system is not suitable for everyone, we are offering a free 30-minute assessment with our dentists. They will evaluate your teeth to determine whether Invisalign is right for you.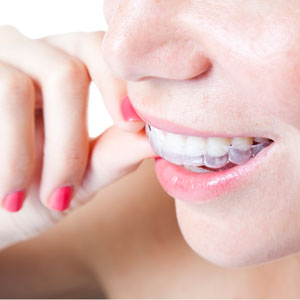 Know if you are the right candidate

Find out which Invisalign treatment is right for you

Discover how long the treatment will take

Find out what the cost will be

See a simulated end result using Itero
Click the "Book Now" button and select "Complementary Cosmetic Consult" to book your appointment Now!
What Is Invisalign?
Invisalign is a modern and discreet approach to straightening teeth that uses a series of custom-made aligners created to fit snugly over your teeth. The aligners are made from a clear, lightweight material, offering a comfortable and almost invisible alternative to traditional metal braces. They work by gradually shifting your teeth into their desired positions, leaving you with the straighter, beautiful smile of your dreams.
What Could Your Smile Look Like with Straighter Teeth?
Take a smiling selfie and see what your smile could look like with straighter teeth.
The SmileView simulation tool uses powerful technology to provide you with a computer-generated simulation of how your smile might look with straighter teeth.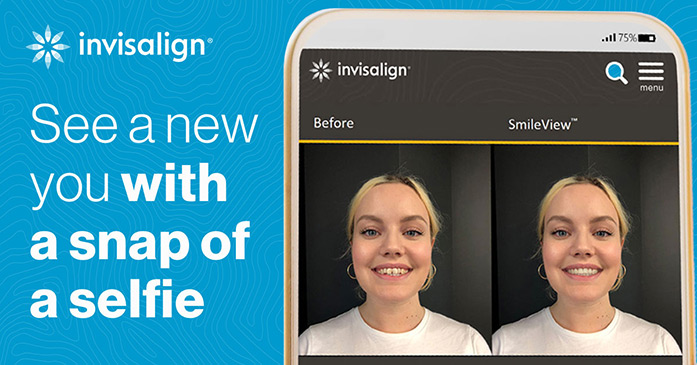 The Benefits of Invisalign
While traditional metal braces effectively straighten teeth, they can be uncomfortable and unattractive. With Invisalign, however, you can enjoy these benefits:
Comfort: Metal braces can cause some discomfort because they use greater pressure to straighten the teeth. Invisalign applies gradual pressure and uses smooth, comfortable aligners versus metal wires and brackets.
Discreet appearance: Because the aligners are virtually transparent, most people won't notice you're wearing them.
Ability to remove: As Invisalign aligners are removable, you can eat whatever you want without having to be concerned with food getting stuck in your braces. Plus, brushing and flossing are much easier.
Your Invisalign treatment will begin with an initial consultation. With Invisalign, the following types of issues can be corrected:

Crossbite
Crowded teeth
Gapped teeth
Open bite
Overbite
Underbite
Sandy will create a 3D image of your teeth in just minutes using our high-tech iTero Element® scanner. This method avoids the need for gooey impressions, plus it produces much more accurate results.
Another benefit of our 3D scanner is that it has an Invisalign Outcome Simulator, letting patients see what their results will look like before treatment has even begun. Sandy will work with Invisalign to fine-tune every movement in each tooth using ClinCheck® software.
Your aligners will be crafted using industry-leading technology based on your personalised treatment plan. Made of SmartTrack® material for your comfort, your aligners also will be individually trimmed to fit your teeth perfectly.
Once your set of custom aligners has been created, you will be able to wear a different set every two weeks to move your teeth into their new positions. You are advised to wear the aligners for at least 20-22 hours per day, only removing them to eat, drink, or brush and floss your teeth.
How much does Invisalign cost?
As every patient's treatment plan is different, the cost will vary from person to person. Once
your dentist assesses your situation
and identifies if you're a suitable candidate for Invisalign, we'll be able to give you the exact fee that you can expect to pay.
The cost starts from $2950 for Invisalign i7, which addresses minor orthodontic issues. Depending on the complexity of your case, your price may be higher. We can provide costs to you after an initial consultation. At our practice you can get Invisalign with no money down and a 0%-interest payment plan. See our payment options.
What is the treatment time?

On average, Invisalign will take just one year to successfully straighten a patient's teeth (a significantly shorter time frame than the 2-3 years required for traditional metal braces). During your treatment, you will also be required to attend regular dental appointments so we can manage your progress.
Do you offer payment plans?

Yes, we are pleased to provide patients with convenient payment plans to make the dental care you need and desire affordable.
Do you offer free consultations?

Yes! If you are interested to learn more about Invisalign, book today for a free consultation.
What's Next?
Come and talk to us to find out if Invisalign is right for you!
Click the "Book Now" button and select "Complementary Cosmetic Consult" OR Contact our Kippa-Ring practice to schedule a free 30-minute consultation worth 200$.

Invisalign® Kippa-Ring, Redcliffe Peninsula, Redcliffe, Newport, Clontarf QLD | (07) 3883 2434