Oral Surgery at KR Dental
Many people consider oral surgeries to be painful procedures, however thanks to advances in modem cosmetic dentistry, tooth extractions have become relatively quick and painless. At KR Dental, our team of dental professionals are highly trained in performing a variety of extractions, including wisdom tooth removal.
When Does a Tooth Need to Be Extracted?
While it is always our dentist's goal to save a tooth, there are some cases where the tooth must be removed to prevent the patient from further pain and discomfort. These include:
Infection or abscess
Crowding
Disease (i.e. periodontal disease)
Trauma or injury
Failure to respond to root canal therapy
Additionally, there are many reasons why a wisdom tooth may require removal, however the most common of these is when there isn't enough room in the jaw for the tooth to erupt successfully. If not treated in a timely manner, a patient may experience the following:
Misaligned teeth
Inflamed gums
Pain and discomfort
Bite abnormalities
If you're experiencing any of the symptoms above or are worried about a tooth that may require an extraction, we're here to help. Simply schedule a consultation with our friendly team as soon as possible.
Dental Extractions: What to Expect
Before oral surgery takes place, our dentists will use our state-of-the-art dental technology and equipment to further examine the site of the tooth. This allows us to determine if extraction will have the best outcome for the patient, or if there are any other ways to save the tooth. If extraction is required, the patient will then be scheduled to come back at a time of their convenience.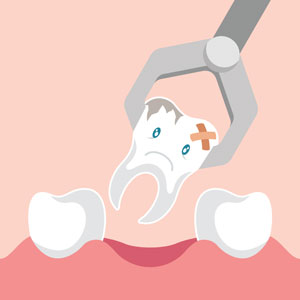 On the day of the extraction, our dentist will discuss the procedure further and answer any additional questions the patient may have. To begin the extraction, sedation and pain management will be administered to ensure the patient remains comfortable and pain-free during the surgery.
Overall, the extraction process will take between 30 – 60 minutes to complete, however this will depend on the complexity of the case, as well as how many teeth are being extracted. If necessary, the gum tissue will also be stitched, and antibiotics or pain killers may be prescribed.
A follow-up appointment will then be made to allow our dentists to assess the patient's progress and healing.
Not every wisdom tooth needs to be removed. However, the location of third molars can predispose them to becoming impacted, infected and difficult to clean. At times, wisdom teeth can cause pain or damage to the adjacent teeth.
If we suspect that a wisdom tooth extraction is necessary, we'll order a full mouth X-ray or specialized CBCT scan to evaluate their position. Depending on the findings, we may recommend watching the teeth from one checkup to the next or moving forward with having them removed. Occasionally wisdom teeth can be deeply seated enough that they don't cause any problems and we can simply monitor them.
Your comfort is of the utmost importance to us. We'll prescribe appropriate medication – such as an antibiotic or pain reliever – during your recovery to keep discomfort to a minimum. Plan to give yourself a couple of days downtime with a light schedule as you rest. Soft foods are recommended for the first week.

Tooth Extraction Kippa-Ring, Redcliffe Peninsula, Redcliffe, Newport, Clontarf QLD | (07) 3883 2434