Cosmetic Dentistry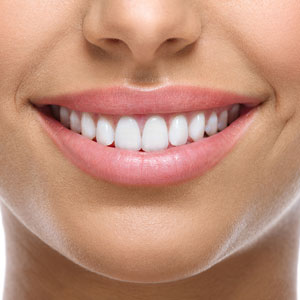 Are you ready to build the smile of your dreams? At our practice, we can't wait to help you achieve it. With years of training and knowledge under our belts helping patients just like you, we're confident in our abilities to leave you smiling bigger and brighter. We're proud to offer a number of cosmetic dental treatments fit for your needs. During your first consultation with us, we'll examine your mouth and let you know what an ideal treatment plan looks like based on your goals. When you choose us for your care, it's always custom and focused to your desires.
If you're wondering what treatment may be right for you, we invite you to learn more about each below.
Smile Makeovers
It's been said that a smile is your best accessory. Naturally, we agree! But if you have teeth that are discoloured, crooked, stained or have other imperfections, you may not feel like smiling. The good news is our smile design makeover service can give you the confident, beautiful smile you've always wanted!
To help us determine how we can give you the smile you want, we'll consider the following:
Do we need to move any teeth?
Do we need to use Invisalign?
Do we need to replace any gaps?
Do we need to use dental implants?
Can we get results with just a little bit of cleaning and whitening?
Or can we just replace those discoloured fillings?
What is the best and most cost-effective way to achieve what you want?
What to Expect
We will take a series of photos and then using a particular program on a computer we can create a visual of what your smile will look like.
Pictures
You will get to see a picture of yourself with a new smile so you get an idea of what's possible within the realms of dentistry.
Model
Using digital 3-D printing we can print a mockup of your new smile onto a plaster model. By doing so, you will be able to trial your new smile. So even before we do anything to your teeth, you have a way of trialing your new smile using temporary material. With this model, you can touch, feel and see what your new smile will look like. We'll also make sure that your speech won't be affected.
Treatments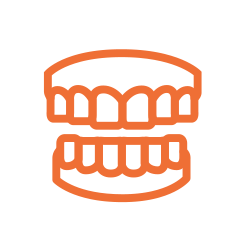 Invisalign
: A straighter smile has never been easier to achieve with Invisalign clear aligners. This advanced treatment for straighter teeth allows you to achieve a properly aligned smile and jaw by wearing retainers that shift your teeth. Every few weeks, you'll receive a new retainer that will move your teeth closer to their final position.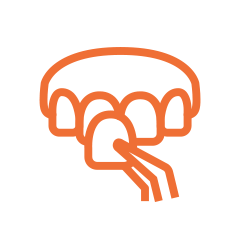 Veneers
: Quickly transform your smile's appearance with our cosmetic dental veneers. If you'd like to correct tooth discoloration, misshapen teeth, cracked or chipped teeth, dental veneers may be ideal for you. Veneers fit over your natural tooth like a fake nail and are made of a highly durable material. Each one is designed for the specific shape, size and colour of your individual preferences. In just a couple of practice visits, you'll leave with a new and improved smile designed to last years to come. Depending on your concerns and budget, you can choose between a premier porcelain veneer or a more budget-savvy composite version.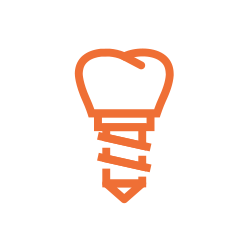 Dental Implants
: If you're missing teeth, a dental implant can be an ideal solution for patients with enough remaining bone to hold an implant. Implants work well whether you have a single missing tooth or need to anchor a multi-tooth prosthesis such as a bridge or denture. An ideal candidate for an implant is someone who is in overall good health, is a non-smoker, and takes care of their oral health. When integrated, implants help support the surrounding bone tissues for a fuller, healthier-looking facial profile. Brush and floss them like natural teeth and they'll reward you with a lifetime of success.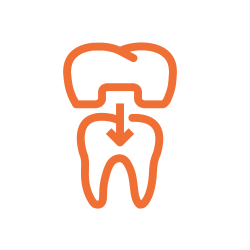 Crowns and Bridges
: If you're missing one or multiple teeth, a crown or bridge may be an ideal option for correcting your smile to what it once was–or even better. A dental crown is fitted over an implant, with the bridge anchored to each implant for a beautiful smile that functions and looks just as your natural teeth. Most of our crown and bridgework is crafted from durable ceramics and porcelain materials that blend in with your surrounding smile.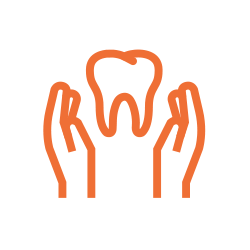 Teeth Whitening
We're happy to offer patients at-home whitening kit to obtain a whiter smile. We will make custom trays for you and provide you with gel to use in the comfort of your own home. Our professional teeth whitening products are safer and stronger than anything you can purchase over the counter. Plus, easily maintain your results by topping off 1-2 times every other month to keep your smile brighter, longer.
FAQ
Why would someone consider a cosmetic dental treatment?
A patient may consider having a cosmetic dental treatment if they're unhappy with how their smile or teeth looks. Common causes for seeking our services include overcrowding of the teeth, gapped teeth, discoloration and more.
What are the benefits of choosing cosmetic dentistry?
Most patients who choose to have a cosmetic procedure done do so because they are unhappy with their smile in some way, shape or form. Cosmetic dentistry can help to bring you straighter teeth, a beautiful confident smile, and teeth that are several shades whiter in just one quick practice visit.
Absolutely. We're proud to make care affordable and available for patients of all walks of life and financial situations. Currently, we offer both zero deposit and zero interest plans. When you visit us for your consultation, we can speak more about the details and which may be best for you.
How do I know if I'm a candidate for care?
We're proud to offer free 30-minute cosmetic dental consultations to anyone who would like to learn more about their options and what treatment may work best for them. If you'd like to book an appointment, contact us today to do so.
Schedule Your Appointment Today!
Ready to learn more about the incredible treatments we offer patients in the practice? We look forward to helping you achieve the smile of your dreams. Select "Complementary Cosmetic Consult" below to book your appointment Now! We can't wait to meet you.

Cosmetic Dentist Kippa-Ring, Redcliffe Peninsula, Redcliffe, Newport, Clontarf QLD | (07) 3883 2434